When choosing new stone countertops, you aren't only choosing type, layout, and color. You're also going to be choosing the type of edges your new countertop will have. The edge profiles can add extra style to your kitchen or bathroom. There are many options to choose from, but how do you know which stone edge profile is right for you?
Which Stone Edge Profile Is Best for Your Kitchen or Bathroom?
Square countertop edges are the perfect fit for a very modern, contemporary design. You may even choose a square edge if you want your countertops to look sleek and simple.
Beveled edges are sleek and angled. They are popular with more contemporary designed kitchens. Beveled edges are frequently used with granite countertops because they have an elegant feel to them.
The quarter round edge is a very common stone edge profile. This is because it is simple and rounded just enough to remove the sharp edges off of the stone. It is typically less expensive because it requires less equipment to manufacture. For many types of stone, this may be the default edge.
Half Bullnose edges are another popular choice. They have a much softer and curvier look to them. The top edge is rounded but the bottom is still around 90 degrees. It is safer than eased and bevel edges so ideal for homes with children.
Waterfall countertops are very popular right now. A waterfall edge means the side drops vertically to the floor rather than stopping at the very edge of the counter or island. It creates a continuous flow that connects the floor to the cabinets. It has a deep impact on the room. This is a sleek minimal look perfect for homes with a modern décor style.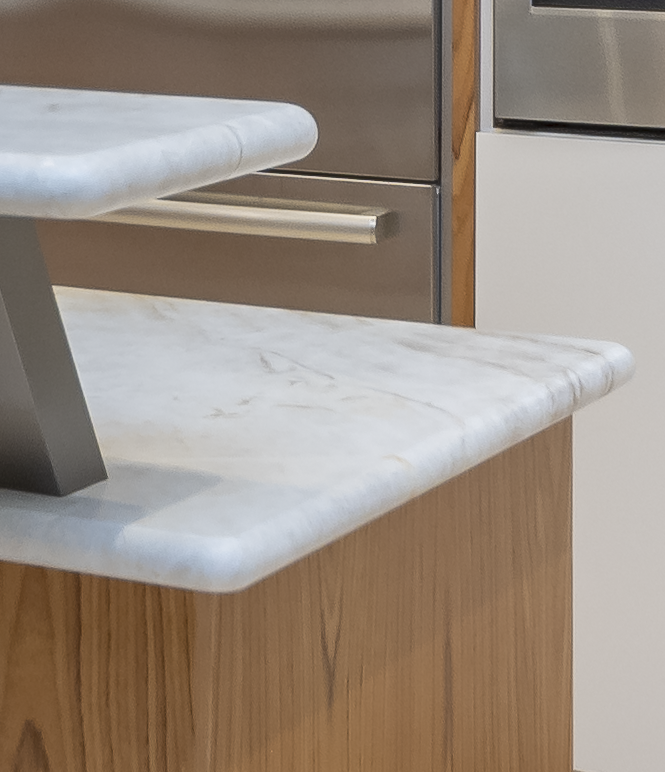 We have many different styles of edge profiles including:
Straight Edge Granite Countertops
Square Edge Granite Countertops
Eased Edge Granite Countertops
Beveled Edge Granite Countertops
Double Bevel
Quarter Round Edge
Waterfall Edge
Half Bullnose
Choosing an expert to help guide you through the stone edge profile options available to you can ensure you get the right look and feel for your countertops while staying within your budget. If you're ready to begin your project, our knowledgeable staff is here to assist you with stone edge profile and countertop options. We are ready to work with you to produce a beautiful, high-quality countertop you can enjoy for years to come.
Eased edge is slightly rounding the finished edge on a square end to help remove any sharp edges prone to chips. These are more durable than regular squared edges, as the rounded surface decreases the chances you will chip them if you were to strike them on the edge with a hard object.
1/8" Rounded Top & Bottom
Similar to the Eased Edge just slightly more defined rounding.  Smaller edge rounding will maximize the visual thickness of the piece.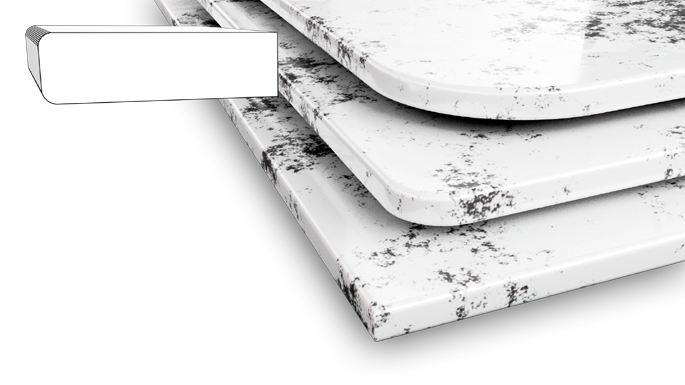 1/4" Rounded Top & Bottom
The top and bottom edge(s) of the granite has a radius, about the diameter of a pencil.  This gives the countertop edge a sleek look, pairing nicely with a traditional design, while still looking somewhat square.
Sloping the top edge at 45 degree angle gives the counter top a modern look, that  works for elegant and contemporary kitchen designs.
The Half Bullnose Edge Profile is a good choice when you want the features of a bullnose edge while retaining the chunkier look that results from displaying a greater depth of stone.
The full bullnose has the most contemporary look of all the granite countertop edges. A side view of full bullnose shows the shape of a half circle. The full bullnose is gentle on the body and has no edges. It tends to make the countertops look thinner.
The Mitered edge is commonly used for rectangular countertops that joining at a 45-degree angle to form a distinct edge. The Mitered edge is an edge assembled from two pieces, to give a countertop with less weight the appearance of a much heavier one.
From the side, an ogee edge forms the shape somewhat like the letter "S". Ogee is used to achieve a more classic look perfect for traditional kitchens.
Also know as Half Ogee edge profile, is a subtle and stylish look.  Looks perfect with traditional contemporary spaces and adds fair to rustic decor as well.
The Cove Ogee aka Roman Ogee Edge, combining the aesthetics of the both Ogee and Cove edges. This ornate edge profile will accentuate the beauty of your countertop and works well on simpler patterned stones & marble countertops.
The Ogee over Full Bullnose edge combines the classic S-shaped curve with a fully rounded style, for a thick and attractive edge profile that's a great option for kitchen countertops, especially islands.
The Cove Dupont edge has crescent curve that leads into a 90-degree angle with a rounded bottom. This edge gives a sophisticated and elegant look to any project.
The Waterfall edge features multiple rounded edges, which gives this profile a cascading appearance. The waterfall edge will give the countertop a thick and elegant look that's perfect for luxurious kitchens. Cleaning your countertops daily will avoid dust build up in its creases.